As audiences are bracing themselves for The Avengers to be released on May 4, pre-production is moving briskly for Iron Man 3. Guy Pearce has just been cast to play Aldrich Killian, a geneticist seen in the story, Iron Man: Extremis, one of the more essential, modern-day stories told in the Iron Man comics, written by fan-favorite scribe Warren Ellis and stunning art by Adi Granov.
Pearce, who can currently be seen in Lockout and in Prometheus this summer, will fit perfectly in this role and finally make his Marvel Studios film debut. It was always my dream casting that Pearce would play Daredevil one day. He has the acting chops and slender but muscular build that Matt Murdock exhibits in the comics. He was offered the role for the 2003 film because it "wasn't his cup of tea" and turned it down. The role eventually went to Ben Affleck who–while muscular–appeared ill-fitted in the suit with a bigger barrel chest. That script on the other hand, woooo, that's another story.
EDITOR'S PICK: Is Oscar-Nominated Actress Jessica Chastain Set to Join the Cast of Iron Man 3?
Now that he's been cast in more of a citizen role, Pearce enters the Marvel film universe and joins a cast with returning members that include Robert Downey Jr. (Tony Stark/Iron Man), Gwenyth Paltrow (Pepper Potts), Don Cheadle (Jim Rhodes/War Machine), and Scarlett Johansson (Black Widow). Ben Kingsley was cast earlier in April, but will not play the Mandarin as many assumed when his name first surfaced, he will instead play an unknown villain tied in with the Extremis storyline, Mallen perhaps?
Extremis
So do you want the skinny on all of this Extremis talk? Back in 2005-2006 when there was hopes of an Iron Man film becoming a reality, Marvel published the six-issue mini-series that would be a reboot of the character in modern day by giving him an updated origin story, add loads of sci-fi elements (one of Ellis' specialties) and give Stark's armor a significant upgrade. There's also a link to Extremis being a super-soldier solution and this may be tied into what we'll see in The Avengers. Stark as a result of Extremis evolves from being an arms dealer to a test pilot of a living armor.
Basically Extremis is a bio-electronics package made up of billions of graphite nanotubes and suspended in a fluid. Once injected, it fuses with the human brain, white blood cells, and creates a revamped healing and repairing process of the body. Stark's internal organs, motor, respiratory, and cardiovascular systems are all upgraded with lingering side effects. Extremis technology also alters Stark's brain and his ability to interface with his armor directly and process information like the perfect computer. Tony Stark and technology are one. The Extremis was developed by two scientists, Dr. Aldrich Killian (Pearce) and Maya Hansen, an old fling of Stark's to recreate the Super-Soldier Serum that created Captain America that could be fine-tuned before it is injected making it tailor-made to be programmed into an infinite number of possibilities and becomes a supremely sought-after weapon for militaries.
Now elements have already been adapted from Extremis into the first Iron Man film directed by Jon Favreau, especially adapting the origin to modern day foes substituting Communism and Vietnam for Al Qaeda and Afghanistan. Plenty of the design elements were also brought over as Granov was a conceptual artist and design consultant on both Iron Man films. Now it appears that the rest of the Extremis story is being adapted into Iron Man 3, which is directed by Shane Black (who worked with Downey Jr. on Kiss Kiss Bang Bang). If Extremis is fully adapted (minus the flashbacks to his origin) then there's plenty to be excited about Iron Man 3 even though Jon Favreau and his plans for Mandarin and Stark's bout with alcoholism will never be fully realized. And if you thought Industrial Light and Magic amazed you with their special effects in the first two Iron Mans, wait until you see what they get to brig to life in this story.
I won't dispel why Stark needs the Extremis and the conflicts he encounters, but I highly recommend tracking down a copy of Iron Man: Extremis which is available in trade paperback and hardcover and there is the motion comic which is available on iTunes. Here's a quick clip of a trailer of the motion comic.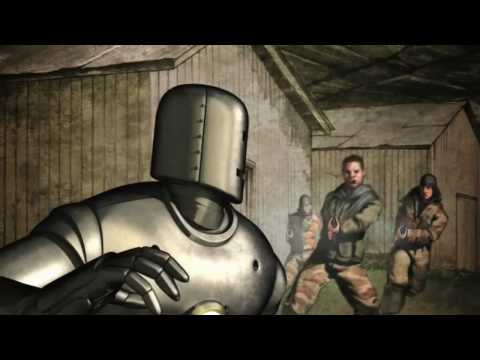 Are you loving how Iron Man 3 is taking shape? Would you have rather seen Stark deal with alcoholism and The Mandarin? Do you think we'll see Robert Downey Jr. as Iron Man after this three-quel? Tell us your thoughts below?