For viewers who are now tuning into Cartoon Network each Saturday morning to see new episodes of Green Lantern: The Animated Series and Young Justice may have noticed odd, quirky, and entertaining animation shorts coming back from commercial. BuzzFocus spoke with Ben Jones, one of the producers on DC Nation Shorts and is also the director/producer on the New Teen Titans shorts. We talk about the ideas behind the DC Nation Shorts and what we can expect in this first season.
EDITOR'S PICK: Read Our Exclusive Interview with the Producers of Green Lantern: The Animated Series
There are so many different animation styles, which is cool. What was the thought behind a different style for each short?
BJ: The way Sam Register (along with Peter Girardi who had the idea for the Block) described it was for it to be a mini-film festival of styles. The goal from day one was to get as wide a variety of looks as we could. In part when the shorts come on, kids at home know they're not watching a continuation of the show they're watching. If a short came on and it looked just like Green Lantern and Young Justice then it'd be a little confusing. If it's different then they'll know instantly it's a new story with different characters. They can watch it for 75 seconds and get back to their other show.
Is this a trial where we'll see characters we normally don't see or are the shorts going to focus around the main universal DC core of characters?
BJ: Our first instruction with the shorts is to stay away from the five biggest characters, no Justice League, no Superman, Batman, Wonder Woman, Green Lantern or Flash. Also to stay away from the Young Justice characters and the family of Green Lantern characters because those would be in the episodes of course. We found some more obscure characters like, Shade the Changing Man or Amethyst to do shorts with, but somehow, the Big 5 keep sneaking in little ways. Superman and Batman are both in the shorts that Aardman did and they'll both be making cameos in various other places. Wonder Woman hasn't appeared yet, but her jet has, whether you've seen it or not.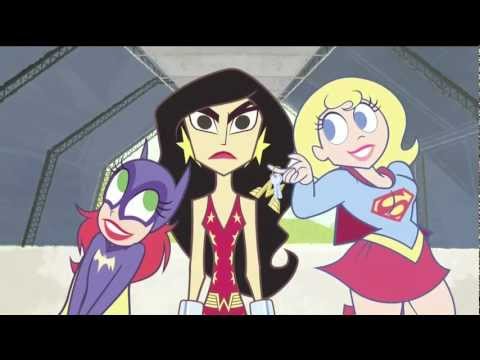 [Laughs] Nice one. Are we going to see this as an opportunity for well-known animators such as Peter Lord and Nick Park?
BJ: Well the guy from Aardman who worked on DC's World's Funnies was a guy named Rich Webber who has worked with Peter Lord and Nick Park on Shaun The Sheep, and Purple and Brown.
Will we see anime or legendary Japanese animators?
BJ: The Amethyst shorts, Princess of Gemworld are designed by Brianne Drouhard who is American but is working with David Production who did Superman: Man of Tokyo shorts. She's designed it with an anime influence, and David productions being a Japanese studio will bring their own influence into it as well. We have some Catwoman shorts being done in China by a studio called Wolf Smoke, that has a modern anime style.
Ooh, Catwoman, now are we going to see the Darwyn Cooke costume or Jim Balent's design from the 90's?
BJ: No, Actually we're going to see her in a new costume that they designed.
What can we expect from this latest take on Teen Titans?
BJ: The shorts are like we've seen, comedy-based. They're all stand-alone. There's no arc throughout. We'll be seeing a return of a lot of villains and other characters from the original series. We didn't create any new villains because we tried to use as many of the old characters as we could. We'll be revisiting a lot of our favorite characters. Their original actors will voice all of the characters with the exception of two characters, if they have any dialogue. There are some that appear silently.
That's a nice treat for the audience who will be rewarded for watching those earlier shows.
BJ: It was a nice treat for us too. We haven't seen all of these people for awhile.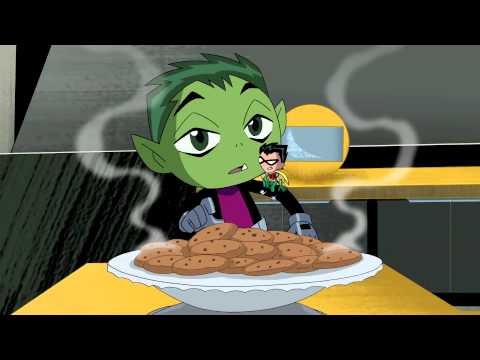 What can people look forward to in the shorts, will there be some kind of serial nature to them week to week or will it be within the block for that particular day?
BJ: There are some shorts that are serialized, for instance a series starring the Atom, that is based on the Atom comics from the 1980's. Some of the other series will have a looser serialization but most of them are stand-alone. We still haven't figured out how those are going to air yet, but within the block. Atom looks back at the comics, and certainly Doom Patrol are based on the comics but most are original.
Catch these entertaining shorts as a part of the DC Nation block on Saturday mornings on the Cartoon Network between 10am-11am ET/PT during Green Lantern and Young Justice.